Work & Life Balance
Home » About Our Centre
We hear so much about this nowadays and the importance of trying to get this balance right and it is one of the key benefits of basing your enterprise at Portlaoise Enterprise Centre. When you start a new business it's essential to keep costs as low as possible, that's why so many entrepreneurs work round the clock and invest personal funds into their new business.
Paying high rents for a business premises isn't feasible so the business is based in a room at home. That can be when the line dividing work and home gets blurred. Soon work becomes all-consuming and the work life balance gets out of sync.
supporting businesses from
the start
That's where we come in. At Portlaoise Enterprise Centre, we know small business. We talk to entrepreneurs all the time, people like you who have a great idea and who are willing to work hard to make it a success.
We know the difficulties you face and that's why the Centre was established, to provide practical support and a high standard of mixed commercial accommodation for start-up businesses.
Providing The Best for you
What can we do to help you? Lots is the short answer. We have affordable Hot Desks, small office spaces and light industrial units that won't cost the earth but will help you keep work at work and enjoy home life at home.
Your business will now have a business address and you will have access to our meeting rooms if you need them to meet clients or make that important presentation – now that will look much more professional than using your kitchen table, won't it?
Broadband is another problem for lots of businesses depending on their geographical location. Fear not, at Portlaoise Enterprise Centre, that's not an issue. Our broadband is accessible throughout all the office spaces and the best news is it's free of charge.
Working from home Isolation
If you're in Portlaoise Enterprise Centre, you're never alone. Here you'll find yourself in a work environment surrounded by other business people just like you. You'll chat over a cuppa in our kitchen and swap ideas and make connections. Networking is the name of the game for start-up businesses, and you just never know who you'll meet here in the Centre.
Our friendly Centre Coordinator is also available to help and advice or put you in contact with some of our business partners such as Laois Local Enterprise Office, Laois Partnership, or the Business Support Unit in Laois County Council.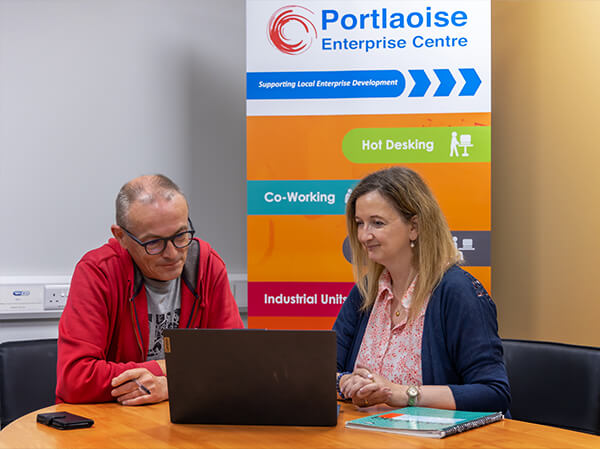 Need More Information?
If you can't see the information, you are looking for, please feel free to contact us and we will be happy to answer any question you might have.